How much fun have you and your companion enjoyed in the past month? If you're young and you've passed the honeymoon phase of marriage but don't yet have children, then you may have evenings out to dinner and a movie, or long strolls hand-in-hand. If you have children in the home, two jobs, PTO, church, children's events, a mortgage, car payments, parents to visit whenever possible, and more, then fun together as a couple may be a distant memory!
Here's the truth Mary Beth and I learned several months after our younger daughter's birth. We began to notice that our older daughter looked pale. She had fair skin, blonde hair, and blue eyes, but she looked paler than usual. Then we realized that her eyelashes and eyebrows were missing! Fear of some dread disease soon turned to concern for her six-year-old emotional state when I found lots of her hair in the rear car seat floorboard.
Being the counselor-want-to-be, I immediately recommended finding a counselor who understood play therapy. We found one in Savannah, Georgia, fifty-five miles east of our rural town. The counselor met with us about three times. He spent fifteen to twenty minutes with our daughter and an hour with us each session.
The last session he returns from talking to Emily with this, "I have some good news and some bad news. The good news is that there is nothing wrong with your daughter!"
We waited for the shoe to drop as we asked, "Then, what's the bad news?"
"Well, your daughter is reflecting in her behavior the stress level in the home!" Then the counselor spoke these wise words, "The greatest gift you can give your children is a great relationship with each other! Let's talk about how you handle stress."
While we thought we had a good relationship, we hadn't realized the added stress in our home. Then we surveyed the last two-and-a-half months: Mary Beth's seven weeks of complete bed rest, my having to add extra parental duties during that time while keeping up my duties as pastor, Mary Beth's recovery from a C-section, and a newborn's needs.
We needed to de-stress! We needed to have fun again. Mary Beth and I had to relearn how to have fun. We had lost our childlikeness and had to find it again. The relearning process took time. A few older friends and a couple of teenaged girls provided childcare for us to have that fun.
At first, we felt a bit guilty leaving our small children. Eventually, we understood the value of building this time into our family life. The author of the Old Testament book of Ecclesiastes wrote: "Relish life with the spouse you love; Each and every day of your precarious life. Each day is God's gift" (Ecclesiastes 9:9, The Message Bible).
The advice we received helped to strengthen our relationship. It helped to settle our older daughter's emotions. It helped us to show them a pattern they could carry into their marriages. They learned well that lesson because we now keep our grandchildren for their parents to have an occasional night out. Win/win!
Serious Study about Fun Time
Plato wrote, "You can discover more about a person in an hour of play than in a year of conversation." Therefore, the place of fun in marriage attracts serious attention! For example, the manner one wins or loses a board game or a ball game may reveal something about the way one wins or loses in business or in relationships. The ability to take oneself less seriously gives breath to a harried couple.
Researchers find that playfulness in marriage infuses the relationship with positive emotions and creates a greater sense of marital satisfaction, closeness, and intimacy (Aune and Wong, 2002). Look at the impressive list of positives for the playful couple included in Brower's on-line article, Have Fun! The Importance of Play in Couple Relationships:
Adult playfulness "increases bonding, communication, conflict resolution, and relationship satisfaction" (Baxter, 1992; Betcher, 1977; Kopecky, 1996; Vanderbleek, 2005)
engenders spontaneity and promotes intimacy (Baxter, 1992; Lauer & Lauer, 2002)
increases relationship satisfaction and meets the challenges growing out of differences and to weather the storms of life together (Aune & Wong, 2002; Betcher, 1977; Lauer & Lauer, 2002)
couple fun proves to be the most important factor in the sense of friendship and commitment, and "the greatest influence on overall marital satisfaction" (Markman, et al., 2004)
Let's add one more very practical research conclusion about fun. This one comes from Dr. Arthur Aron, who teaches at the State University of New York, Stony Brook. Aron's contribution to the subject of marital fun comes from the results of one of his earlier studies. Aron recruited fifty-three middle-aged couples. The researchers first measured the couples' relationship quality using standard tests. The couples were then randomly divided into three groups and given different tasks.
Group one received instructions to spend ninety minutes a week in pleasant, familiar activities, like dining out or going to a movie. Group two was instructed to spend ninety minutes a week doing some different and exciting activity that appealed to both husband and wife, for example attending concerts, dancing, skiing, or hiking. The third group received no particular assigned activity.
Ten weeks later, the couples took tests again to gauge the quality of their relationships. The group who engaged in the novel/exciting activities showed a significantly greater increase in marital satisfaction over the pleasant/familiar date night group. Pleasant and familiar prove better than nothing but novel and exciting give you more bang for your fun-buck (Parker-Pope, Tara, Reinventing Date Night for Long-Married Couples)!
Armed with these findings to encourage a fun-loving, playful marriage, let's consider how to recapture the fun in your marriage.
The FUNnel
As children, we needed only another willing child or two and we could instantly enter play. No planning or intention was required. Not so much now as adults. Many of us made the shift to adulthood, leaving behind any vestige of playfulness! Yet, here we stand, wanting to maximize our marriage. We may think we want more happiness, but happiness is a consequential condition. It occurs as a consequence of some other decision or action or goal achieved. Seeking happiness as a goal may be compared to trying to nail Jell-O to a tree: try as hard as you can but it continues to fall apart and slip away. May I interject again that happiness is like the sprinkles on the icing of the holy marriage cake? They look beautiful. Others may see them first, but they do nothing to change the taste of the cake, which will taste just as sweet without them.
Fun in your marriage serves to strengthen the relationship, draw you closer, and build intimacy. When these goals are achieved your marriage will be more of what God intended. You will experience God's unconditional love through your mate. You will understand better both the purpose in your marriage and the purpose through your marriage as you share with others. As you move in this direction, I believe you'll wake one day to find that you are happy too!
Here's a suggestion for recapturing playfulness and fun. I call it the FUNnel. It involves discovery, selfless sacrifice, planning, budgeting, and execution of the plan.
Begin by a list of ten things for each of the following:
Things you LOVE to do
Things you LIKE to do
Things you HAVE NOT DONE but would like to try
Things that make you UNCOMFORTABLE
Things you WOULD NOT DO
Take one list at a time, starting with List 1, Things you LOVE to do. Share. Notice any direct overlapping of the lists. These activities provide a potentially immediate fun list. You have to consider budget and calendar. Yes, budgeting and calendaring may seem like spontaneity killers but with children, jobs, bills, etc. planning becomes necessary. Turn the "why do we have to plan" into "wow, we get to plan our next outing!" You'll be surprised how choosing to a positive outlook changes your attitude.
Notice also the similarities within your list of LOVE-to-do's. How can you tweak or stretch or combine those similar items into another activity or two? Add it/them to your fun list and begin planning.
Now, look at your partner's list. What LOVE-to-do on your mate's list that didn't make your list are you willing to do because your mate loves it? You see what I'm asking, don't you? Your purpose under God is to order under your mate by denying yourself (not only enjoying the shared LOVE to do's but including something specifically your spouse LOVES to do that you don't), taking up the cross daily (in this exercise it means sacrificing for your spouse so that he/she may have some fun – like watching an important football game with Hubby, or a day shopping with your Wifey), and following (through to the execution in a humble, faithful, positive attitude). The ideas of humble self-sacrifice on behalf of your mate and fun don't on the surface seem compatible. Instead, they may represent a high expression of marriage done God's way, and when done with God's help, these activities yield God's results: a marriage reflecting divine purpose, holy passion for each other, and happiness for good measure!
With this in mind, take each list in turn and find the overlaps, similarities you two can work with, and a gift to each other. The third and fourth lists may contain some acceptable novel/exciting possibilities that will supercharge your fun experience. Be willing to stretch some. Also, be aware of your beloved's CAN'T do it/WON'T do it list. Even if something you love to do appears on your mates CAN'T/WON'T list, be gentle and respectful. The Golden Rule applies here.
You should have a list with a number of possibilities. Time to pour them into a FUNnel. Your goal will be to have some measure of fun daily. Yes, daily! Sound tiring? Fun should be energizing. Choose something that you intend to do every day to bring a bit of fresh air into the relationship. Tell each other a joke. Tickle each other. Give a foot rub. Listen to a favorite playlist. Dance together. We're talking about ten to twenty minutes. This should require very little planning or money or time but it punctuates the day with something fun or playful. Okay, so you don't make it every day. Fine. If you aim at it daily and miss it a couple of times each week, how much more fun will you have in your relationship?
Next, plan something weekly. Dining out. A movie. Rock-climbing at the gym. Serving in the local food pantry. Planning a mystery drive for your spouse. A picnic at a nearby state park. This will take some planning and budgeting. This fun time will require more time. The goal is weekly time, if schedule and finances allow.
With daily and weekly plans, now consider something monthly and quarterly. Some of these may be the novel/exciting variety of activities. Have you tried ziplining? What about trying your hand at golf? Going on a bit of a challenging hike that includes beautiful vistas. Kayaking or canoeing. Symphony concert. Dressing up and going to a play. These novel/exciting activities will be worth all the planning and budgeting. Don't leave them out! Special concerts, symphonies, a play, or an overnight at a bed-and-breakfast deserve and demand months of planning but you may have a memory to share for a lifetime.
Finally, what about an annual event? If you have a vacation with the kids, can you work in a shorter time for yourselves? What about a beach or mountain trip for three or four nights? Many state parks offer reasonable rates in beautiful settings. Do you have a friend who may offer you a reduced rate for their beach condo? You can catch some great last-minute cruise prices. The preparation for this trip may keep you in a low-level of excitement for months as you look at restaurants, consider free and fee'd activities in the area, and talk to friends who have visited that area or once lived there. You can catch seasonal clothing sales for a new outfit or a comfortable pair of shoes for the trip. You can fully or partially plan your trip itinerary. You can watch travel programs or read travel books on the area. Talk it up regularly! Savor the preparation. Milk this annual trip for fun before you leave, on the trip, then in the after-glow.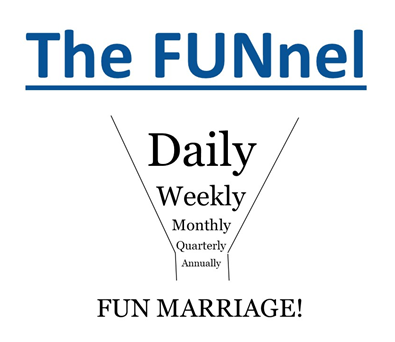 Grab paper and pens, calendar, and laptop. The time has arrived to recapture that spark – the fun – you remember from your courting days! Remember the wisdom of scripture and of our counselor. From the Bible, Ecclesiastes 9:9, "Relish life with the spouse you love; each and every day of your precarious life. Each day is God's gift." From a wise counselor, "The best gift you can give your children is a great relationship with each other!"
You can begin to spread that relish today (Eccl. 9:9) and infused some levity and reduced stress at home. It's time for some fun, isn't it?